Chiropractors in Murfreesboro, TN
Dr. Huston Callaway, D.C.
Dr. Huston Callaway is the Clinic Director for the 100% Chiropractic Murfreesboro office. He hails from Marshalltown, Iowa, home of Zeno's Pizza and the ORIGINAL Maid-Rite. Graduated from Iowa State University with a degree in Spanish, worked in Federal and local law enforcement for 14 years before becoming a doctor of chiropractic. His passion lies in helping people achieve their best life through unparalleled chiropractic care, fitness, and nutrition. Hobbies include being involved in his church, playing basketball, movie trivia, Krav Maga, and being the fun Uncle GoGo to his nieces and nephews.
---
Dr. Courtney McDorman, D.C.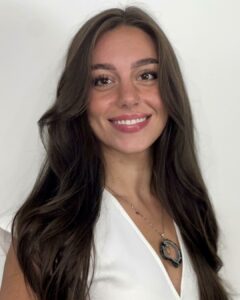 Dr. Courtney McDorman is the associate doctor at the 100% Chiropractic Murfreesboro office. She grew up in Springfield, Ohio. She attended Ohio University where she received her Bachelors of Science before attending Life University's College of Chiropractic and earning her doctorate. Dr. Courtney loves to be outdoors, go hiking and camping with her dog whenever she has free time. She also enjoys painting and drawing.
Dr. Courtney experienced the power of chiropractic at a young age and her life was forever changed. She has a passion for helping people reach their optimal potential by removing any interferences in the nervous system.
---
How We Help Our Patients:
Patients are often surprised at the number of ways that our chiropractic team at 100% Chiropractic in Murfreesboro can assist them in feeling and living better. Using the latest treatment methods and keeping abreast of new techniques, we make a personal investment in helping you to live "100%" and relieve pain. We are available to do so much more than help alleviate back and neck pain, although that is a big part of what we do. Did you know that chiropractic adjustments have been shown to improve the symptoms of many annoying conditions that keep you from experiencing the fully active life that you deserve? Regular chiropractic care addresses blockages in your nervous system that can be the cause of a myriad of issues, including:
Neck, joint, shoulder, & back pain
Sciatica pain
Digestive problems
Sleep issues
Headaches and migraines
Asthma
Allergies
Immune deficiencies
While sports injuries and accident-related injuries lead many to seek relief from our chiropractors in Murfreesboro, these patients are apt to continue with routine treatment.  After seeing the many benefits that come from a genuinely whole-body approach to health and well-being, the previously skeptical often become 100% enthusiasts. The services that we offer at our chiropractic center cater to the specific, individualized needs of our patients to relieve pain and help them live a happier, healthier life.
Prenatal and Pediatric Care: Prenatal chiropractic care can help soon to be Moms have a more comfortable pregnancy and help her ready her body for the strain of childbirth. Also, we can employ a gentle technique to address common misalignments found in infants, toddlers, and young children.
Personal Injury (Auto Accident): Treating patients after they have experienced a physical trauma requires a particular kind of care. First and foremost, time is of the essence as soft tissue damage in and around your spine, if allowed to heal out of line, can cause chronic ongoing issues. Having the less obvious of spinal injuries assessed soon after an accident is imperative. Acute, and soft tissue injuries often get overlooked without the attention of a chiropractor. We have been uniquely trained to look for these subtle and potentially dangerous misalignments.
Corrective or Reconstructive Care: Many spinal subluxations do not arise from a traumatic injury or accidents. Over time, certain habits, such as posture, heavy lifting, and even workouts can cause recurring issues with your spine, and by extension your entire nervous system.  We use corrective care to help bring back the natural curvature of your spine and return order to your nervous system. With a combination of adjustments, exercises, and massage therapy, patients often experience improvements in sleep quality, energy, mood, pain relief, and more.
Why 100% Chiropractic?
At 100% Chiropractic we can provide treatment to all family members, regardless of age or stage of life. A significant portion of our patients and their families engage in regular wellness care. We believe that wellness care, aimed at maintaining a healthy nervous system, through a combination of adjustments, exercises, massage, supplements and informative workshops, offers our patients optimal living. Other patients may only seek our help after they have had an accident or suffered from chronic pain for some time. In either case, the team will perform Discovery assessments on all newcomers and develop individualized treatment plans.