Hey everyone! We have a fun NEW promotion we are going to do for April, 2021… its a social media sticker challenge!
– STUCK ON YOU –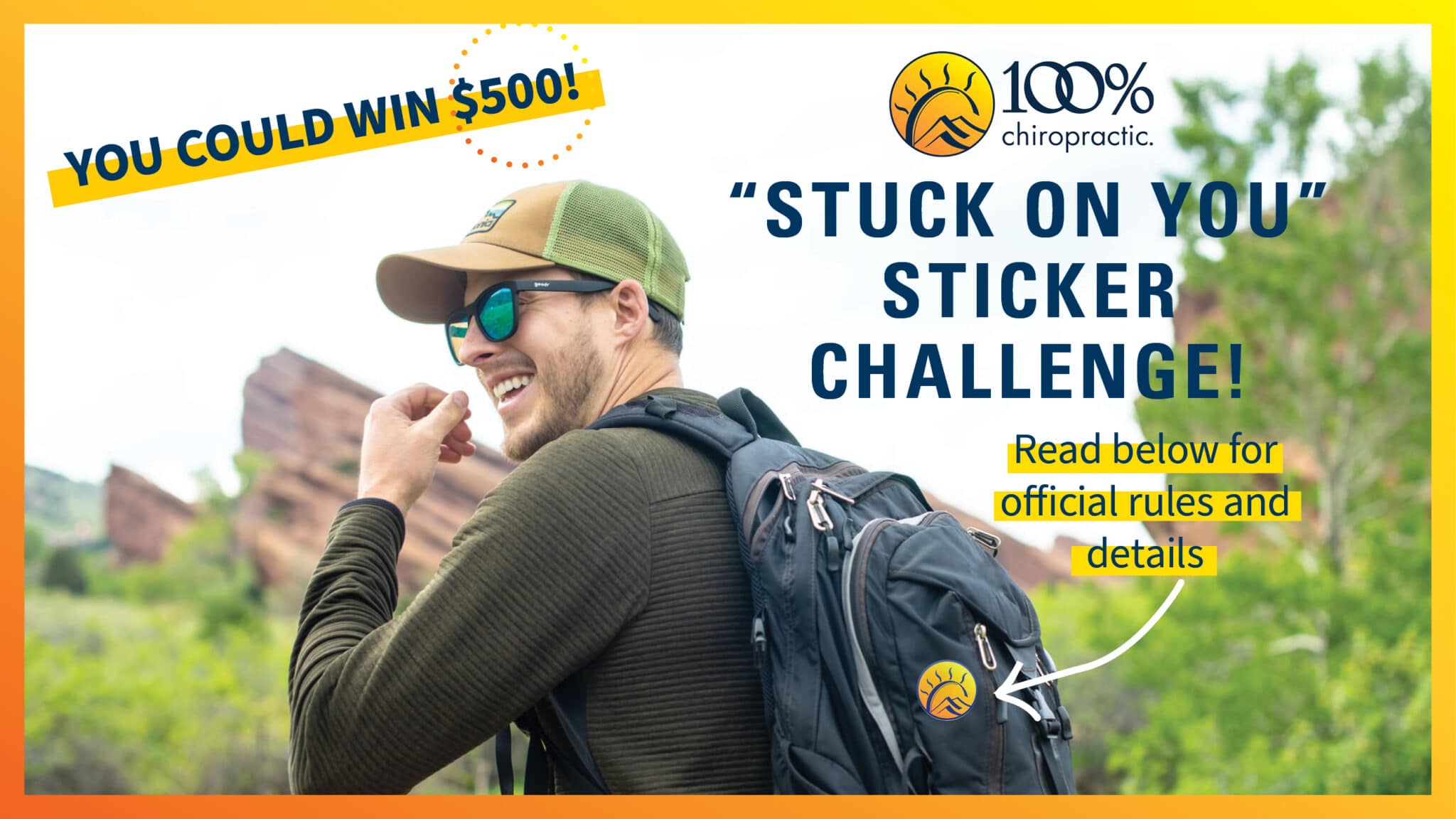 Choose Your Own [Small Business] Adventure Sticker Challenge! 
We are giving away $500 to 5 lucky participants to use at a small business of their choice! See how to participate below:
WHAT
Social media raffle competition! 5 lucky participants will win a $500 gift card to use with a small business of their choice!* by posting and tagging an image with the sun sticker on something that makes them feel 100%!
WHO
Anyone who has a social media account on Instagram or Facebook. You do not have to be a patient of 100% Chiropractic to enter!
HOW
1. Follow @100_percent_chiropractic on Instagram or @100PercentChiropracticOfficial on Facebook
2. Post a photo with our sticker (available at your local 100% Chiropractic office or for sale on our Facebook store ) stuck on something that helps you "Live Your Life at 100%".
3. Tag @100_percent_chiropractic on IG or @100PercentChiropracticOfficial on FB
4. Use hashtag #100percentsupportsyou
WHEN
Entries will be accepted between April 1 – April 30. The 5 raffle winners will be announced by end of day on Monday, May 3.
WHERE
People can be anywhere in the United States! Contest takes place over Instagram and Facebook on our 100% Chiropractic official channels: @100_percent_chiropractic (IG) and @100PercentChiropracticOfficial (FB)
WHY
Covid 19 has hit hard on our economy and we want to help rebuild the small businesses of our economy by showing our support and appreciation. We believe in family, and we believe in helping those who need it the most.
RULES
*Must follow and tag on @100PercentChiropracticOfficial Facebook or @100_percent_chiropractic Instagram
*Must use our provided sticker in your post
*Must use hashtag in your post #100percentsupportsyou
*Stickers are available in your local 100% office while supplies last, limit 5 per patient
*If you are not a patient or do not have a 100% Chiropractic office near you, you can purchase your stickers on our Facebook stores for $2 each
*One entry per 24hr day allowed (max 30 entries per person)
*YOUR ACCOUNT MUST BE SET TO PUBLIC!* OR ELSE WE WILL NOT BE ABLE TO SEE YOUR ENTRY
*Winners will be asked to do an interview on why you chose this local company and may be used on our social channels.
*100% Chiropractic's definition of a  "small business" consists of an unincorporated entity that employs less than 25 people.
*One entry per person, per day allotted on both social network platforms combined, Facebook and Instagram. For example, if Jenny has Instagram and Facebook and she posts to both platforms, only one entry will count for that day.
*All winners will be determined by a random raffle drawing. Your social media handle will be entered into a physical drawing in which we will contact you via the social channel you are posting on if we pull your handle/name for a winning.
*100% Chiropractic has the right to deny entries or winners based on inappropriate social content or behavior, not following the listed rules above, or other reasons outlined by 100% Chiropractic.
*100% Chiropractic must approve of the business that a winner has chosen to support.
*Winnings will be delivered through the small business in the form of a gift card in the winner's name.
Good luck we cant wait to see your stickers!!!!