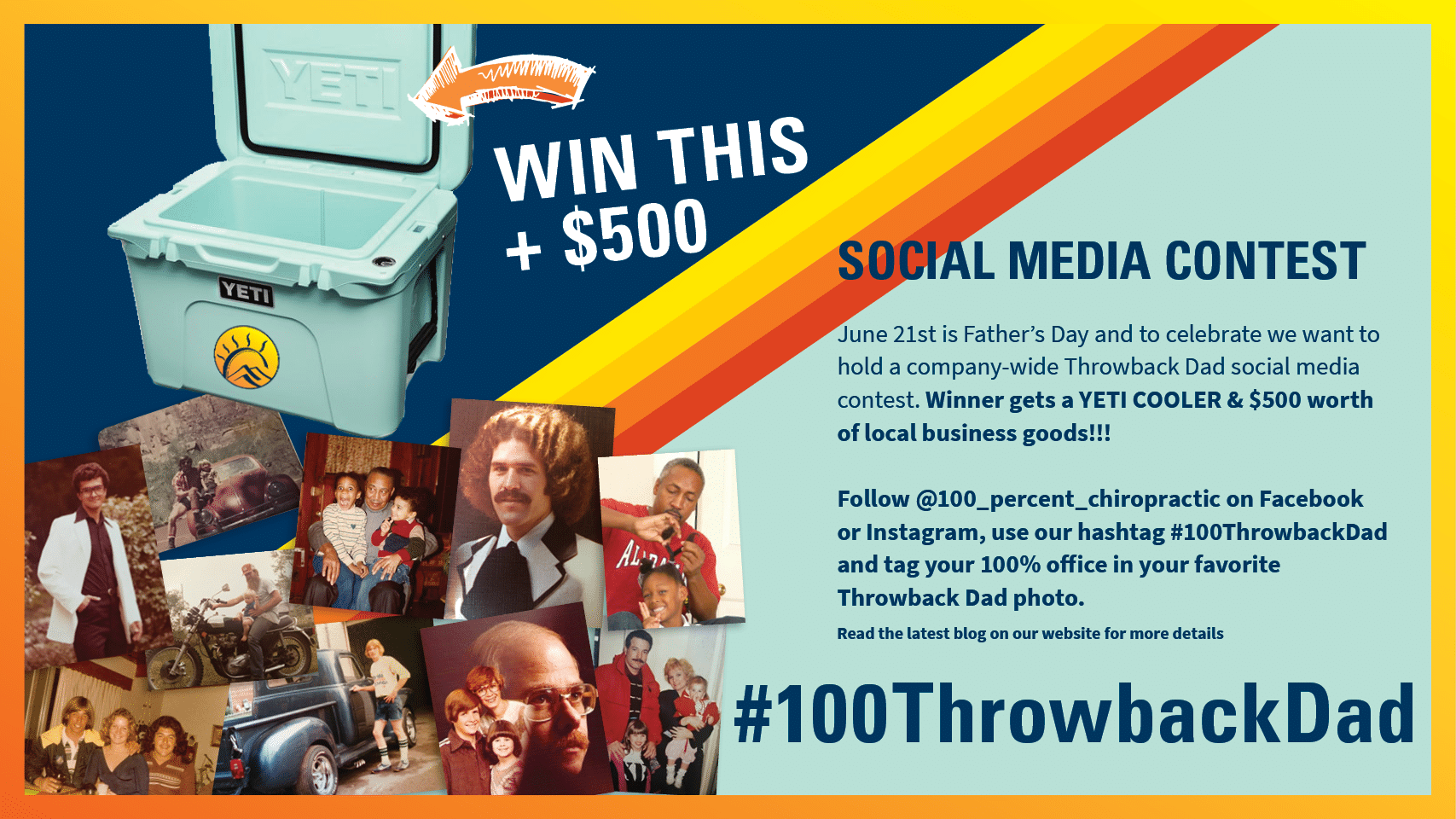 This June 100% Chiropractic is hosting our annual Fathers Day Giveaway social media contest and YOU could be the next BIG WINNER!!!
THE RULES
To enter the contest you must follow these steps:
Post your best Throwback Dad photo on either Facebook or Instagram.
Follow and tag @100_percent_chiropractic on Instagram or @100PercentChiropracticOfficial on Facebook
Use the hashtag #100ThrowbackDad in your post
Tag your local 100% Chiropractic office you are a patient at ( you must be a patient to win )
Do whatever you need to do to get the most likes you can!!
Whoever has the most likes overall on their photo will be the winner. If there is a tie, we will post the pictures to our corporate page and ask our followers to vote on the winner.
WHAT YOU WIN
We are giving away a brand new YETI cooler as well as $500 worth of local business goodies (determined by your local 100% Chiropractic Office). That's a $900 value! Now more than ever local businesses need as much support as possible, and we are happy to help out our communities.
WHO IS ELIGIBLE
YOU! This contest is for our current patients with 100% Chiropractic. You do not have to be a dad yourself, but your dad photo does need to be authentic! If you want to participate and you are not currently a patient with us, feel free to reach out to us and find an office nearest you, or check out our locations page on this website! You will just need to be an official patient for us to annouce you as the winner.
WHERE
FACEBOOK OR INSTAGRAM. You may choose to post on one or another, or both. This is a social media contest, so in order to play you MUST tag our corporate account @100_percent_chiropractic on Instagram and/or @100PercentChiropracticOfficial on Facebook, as well as your local office's social media account. You must also use the hashtag #100percentdad to win.
WHEN
This contest will take place JUNE 1 – JUNE 30. The official winner will be announced by the end of the day on July 1.
WHY
We know how important our dads are and we love celebrating their legacy. #100ThrowbackDad contest is meant to expose the goofiness we all know our dads have, and share some of their greatest trends that have been caught on camera. They have embarrassed us so many times and now is your chance to get him back! We also are excited to support local companies in the giveaway prize and hope to help out the community during these difficult times.
GOOD LUCK! We cant wait to see your #100ThrowbackDad pics!